The biggest question for the defending NBA champs Miami Heat tonight was would they fall to the opening game jitters that other former teams have experienced.
Nope.
After receiving their championship rings it was business as usual as they faced their biggest rival in the Eastern Conference, the Boston Celtics. The tension was even higher than usual since Boston's "Big 3″ member Ray Allen traded over to the Heat in the off season.
The Heat looked great pretty much all night but the Celtics hung on playing at a much higher pace than they have shown in recent seasons now that they have a younger lineup. Even thought the Celtics made it a close game in the closing minutes, the Heat hung on to win 120-107.
GAME HIGHLIGHTS
The Miami Heat got their championship rings


LeBron James found Dwyane Wade for the alley-oop in the opening minutes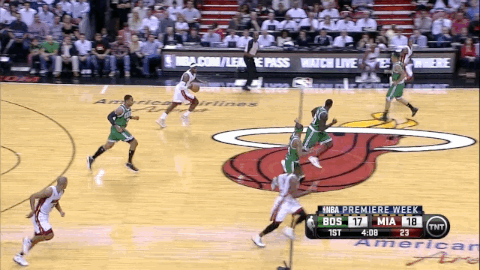 Chris Bosh catches LeBron James in stride for a reverse alley-oop and the crowd explodes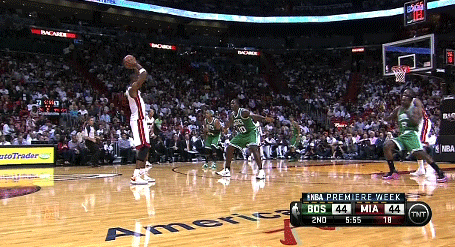 But the most talked about highlight of the night came from the sidelines. Celtics players Rajon Rondo and Kevin Garnett made it known in the off season that Ray Allen was pretty much dead to them. When Allen checked into the game for the first time he went over the the Celtics bench to shake hands with his former team and everyone accepted except Garnett.
No love lost there.
We can look forward to a very competitive, bitter rivalry between these two teams all season long.
images: B/R